Resource Title
Fala Favela: photographs and activities on shantytown life in Brazil
Summary
Fala Favela introduces the life of the community of the shantytown Vila Prudente, known as a favela, in Sao Paulo, Brazil.
It is a photo-based activity pack portraying aspects of life in a shantytown and includes twenty-four A5 colour photographs and a variety of imaginative activities.
The pack also includes stories about people that live in the favela, with discussion questions and activities that can easily be adapted into formal education and nonformal group work.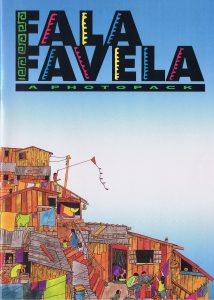 Description
Produced by a group of teachers from Ireland and England that visited Brazil in 1988, this photopack has become widely used in UK and Ireland since it was produced more than 20 years ago.
The group of teachers decided to produce a photopack because it could more graphically and realistically portray the human aspects of life in one favela. The aim was to portray not only the hardships of life there but also the positive dimensions of community hope, struggle and laughter.
The group also felt that a photopack would provide a useful way of introducing the issue of how favelas came to be and why they remain. Fala Favela allows for active use in learning situations and for considerable personal and group debate.
The photopack includes:
Suggestions for using photographs in preparation and agenda setting; emphasising; and exploring issues
Four profiles of local people from Vila Prudente with discussion questions
Facts about favelas and guiding questions and themes for using the photographs in educational and group work settings
Debating the future: educational supports for presenting and debating the various interest groups Vila Prudente and the issues outside of Vila Prudente that affect its future.
A timeline on the history of Brazil and summary briefs on key issues in Brazil: indigenous people; land; wealth and poverty
A section on reflecting on the justice and human rights implications in my local area and community
The photopack contents were designed and agreed with the community in Vila Prudente.
More information on Trócaire and the programme countries it works in can be found at https://www.trocaire.org/whatwedo/countries