Resource Title
From the College to the Classroom: The Impact of DICE Courses on the Inclusion of Development Education and Intercultural Education in the Primary Classroom
Summary
This report presents the findings from a research study undertaken by the Development and InterCultural Education (DICE) Project. The project currently works with the five Colleges of Education in the Republic of Ireland to promote the inclusion and integration of Development Education (DE) and Intercultural Education (ICE) within initial teacher education.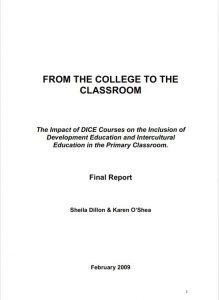 Resource Details
Author:

Sheila Dillon and Karen O'Shea

Publisher:

DICE Project

Country of Publication:

Ireland

Year:

2009

Page Count:

79
Description
After a pilot phase in 2003, the DICE Project worked for three years (2004-2007) with the five Irish teacher education colleges. This research seeks to research the impact of this phase of the project.