Resource Title
Global Education: Teacher's views
Summary
This research report is a small-scale study which was commissioned by DICE in a cluster of Dublin schools in January and February 2006. It took place in a range of schools, with different management structures and a different ethnic mix and was supported by funding from the CDVEC Curriculum Development Unit (European Year of Citizenship through Education 2005).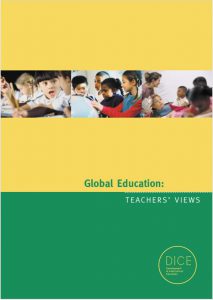 Resource Details
Author:

Anne Rousseau

Publisher:

DICE Project

Country of Publication:

Ireland

Year:

2006

Page Count:

62
Description
The aim of the report was to explore the work that the schools and teachers were already doing in what they understood as 'global education' and look at where this interest originated.
It aimed to examine the philosophy underpinning practice, and to think with teachers about any challenges they had met along the way, as well as opportunities they could see for overcoming these challenges.