Resource Title
In the Footsteps of Mr. Kurtz: Living on the Brink of Disaster in Mobutu's Congo
Summary
This thrilling book recounts the extravagant tyranny of Mobutu Sese Seko, who ruled Zaire (now Democratic Republic of Congo) for 32 years, looting the nation of billions of dollars in the process.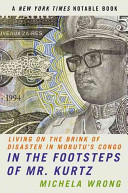 Description
The British journalist Michela Wrong has made a name for herself writing about African corruption and western complicity. She has been reporting on Africa for the last 15 years for Reuters, the BBC and the Financial Times and has written three non-fiction books on the Continent.
Born in 1961, she studied Philosophy and Social Sciences at Cambridge before studying journalism. Her latest book "It's Our Turn to Eat: The Story of a Kenyan Whistle-Blower", is about the state of corruption in Kenya. Its subject is John Githongo, a former journalist whom had been named anti-corruption tsar in 2002 by Kenya's new president Mwai Kibaki. Discovering corruption at the highest levels in the new Kenyan government, Githongo fled Kenya and took shelter at Wrong's London flat. In this book Wrong discusses the fact that for every corruptee, there is a corruptor and for every minister pocketing a bribe there had to be a company ready to pay it – a theme she often explores throuhgout her work. In 2005 she wrote 'I Didn't Do it for You', which is about the East African country Eritrea and how it has been scarred by decades of conflict and occupation.
When he first came to power in 1965, Mobutu Sese Seko was regarded as Africa's shining hope. However, within a just few years, supported by money from Western powers and determined to create a barrier against communism, Sese Seko had become corrupt.
Wrong discusses how his pillaging of an entire state was allowed to happen and describes Mobutu's excessive regime complete with dozens of palaces, while ordinary Zairians (Congolese) lived in dire poverty. She recounts the deterioration of the country; its widespread corruption, the looting of its copper and diamond mines and the lack of basic social services.
Based in the capital, Kinshasa, for six year Wrong writes with first-hand experience of the societal collapse of this resource-rich country. Often her anecdotes are amusing, but most of the time it is sombre reading. The book provides an account of the fascinating history of the Congo and its relationship with its former colonial power, Belgium, which had directed its policy towards economic exploitation, with little thought given to good governance. When they fled in 1960 the Belgians left a country ill-equipped to govern itself – a legacy that Belgians remain largely ignorant to.
The suffering of the Congolese people was the result of the greed of King Leopold II of Belgium for Congo's resources and Wrong draws numerous parallels between Mobutu's regime and the colonialism of King Leopold.
Wrong also throws light on the complicity of other governments and first world institutions that helped Mobuto stay in power.
'No individual can alone bear responsibility for a nation's collapse,' Wrong says in her introduction. 'The momentum behind Zaire's free-fall was generated not by one man, but thousands of compliant collaborators, at home and abroad.'
Wrong is a great storyteller and her personal experiences reporting from this troubled country will leave you captivated. She is also an impeccable researcher and you will learn a lot about The Congo and also about the issue of corruption throughout Africa.
Available from:
In the Footsteps of Mr. Kurtz: Living on the Brink of Disaster in Mobutu's Congo is available from a range of booksellers such as Google Books and from Dubray Books (Ireland) or Amazon UK.
Alternatively check your local library for copies.