Resource Title
Journeys: A Teachers Handbook for Exploring Migration and Migrant Rights in the Primary Classroom
Summary
Journeys is a whole-school resource on the theme of migration, rights and integration.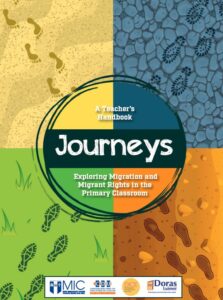 Description
"Follow the footsteps through the book to create your own learning journey about migration."
Journeys is divided into four distinct themes: Stereotypes; Culture; Journeys; and Protection.
The themes have been designed to be covered consecutively to allow children to build on their learning from the previous theme.
This resource includes:
20 activities with a mix of teaching methods including games (such as 'the train game' from Ireland to Russia and the 'human rights boat'), role play, worksheets, groupwork, artwork and more.
Critical thinking and links to migration journeys, the Irish Famine, conflict, refugee protection (introducing the Geneva Conventions and the UN Refugee Agency) and the international protection system for refugees in Ireland (direct provision), tackling stereotypes, discrimination and rumours, 'welcome art' and case studies.
Curriculum links – Many of the activities can be linked to multiple curricular areas, depending on the emphasis you take during the lesson. Each lesson has suggested subject areas strands, strand units and where appropriate, elements and learning outcomes from the new language curriculum. There is a strong emphasis on SPHE, English and Arts Education throughout the resource.
Tips and ideas for setting up your school as a site for integration and welcome
A 1-page glossary.