Resource Title
Learning to Change the World: An Audit of Development Education Resources in Ireland 2013- 2016
Summary
Learning to Change the World: An Audit of Development Education Resources in Ireland 2013-2016 is part of the ongoing research agenda of developmenteducation.ie in monitoring, evaluating and generally taking stock of development education (DE) resource production in Ireland.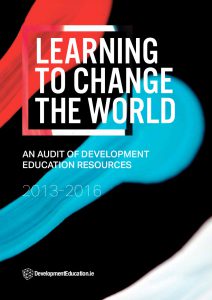 Resource Details
Author:

Tony Daly, Ciara Regan and Colm Regan

Publisher:

DevelopmentEducation.ie

Country of Publication:

Ireland

Year:

2017

ISBN:

9780993023460

Page Count:

58
Description
Learning to Change the World: An Audit of Development Education Resources in Ireland 2013-2016, follows on directly from the initial audit covering the period 2000 to 2012 and forms a baseline on development education and related 'resources' (activity packs, microsites, booklets etc.) as part of an expanding database of resources supported by a range of outreach activities and agendas.
Apart from identifying, annotating and auditing such resources across a four year period, the Phase 2 research is:
undertaken in the context of a range of issues and trends in the areas of human development, human rights and sustainability as well as those in the education sphere itself
across 200 resources 'audited' and organised into 25 themes, 23 resource formats
covers formal (early years, primary, post-primary and higher education) and non-formal education (youth and community education, and development educator related materials).
Following the findings, 9 recommendations are posed relating to access, resource production, libraries and centres, impact research and digital/print formats.
Contents
1.0 Introduction
1.1 Key aims of the Audit of Development Education Resources in Ireland
2.0 Research methodology and Caveats
2.1 Standardised template adopted in Phase 2
2.2 A working definition of 'development education'
2.3 Other definitions
2.4 A note on Education for Sustainable Development and the Sustainable Development Goals
2.5 A note on the limitations to the audit
3.0 Main findings
3.1 Theme distribution across all resources
3.2 Resource Format by Type
3.3 Frequency and Funding of Resource Production
3.4 Distribution by education sector and target groups
3.5 Formal Education
3.6 Non-formal Education
3.7 Resources As Gaeilge
3.8 Additional findings
4.0 Commentary and Conclusions
4.1 On resources by sector and theme
4.2 On quality and content
4.3 On accessibility and availability
4.4 Funding Streams
4.5 On the role of resource centres and libraries
4.6 On traditional broadcasting media
4.7 On gaps and opportunities
5.0 Recommendations
Appendices
Table A1: Resources included in the audit 2013-2016
Table A2: By Themes and Education Sectors
Table A3: Content Framework Matrix
List of tables, charts and case studies
Available from:
For more, check out the Guidelines for Producing Development Education Resources produced by the Development Education Group in Dóchas, developmenteducation.ie and the Irish Development Education Association (IDEA), which are offered to development educators, teachers, youth workers, writers and development workers in non-governmental organisations as a stimulus tool for planning and producing resources.