Resource Title
Living in the Hollow of Plenty: World Hunger Today and The Hunger Map
Summary
This 20 page briefing paper and interactive world map introduce the shape and geography of world hunger today and are suitable for Geography at Junior Cycle and Senior Cycle levels.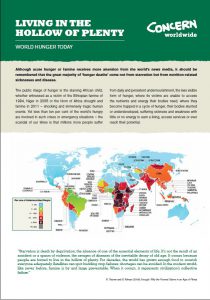 Resource Details
Author:

Concern Worldwide, Association of Geography Teachers Ireland (AGTI), 80:20 Educating and Acting for a Better World and DevelopmentEducation.ie

Publishers:

Concern Worldwide, DevelopmentEducation.ie

Country of Publication:

Ireland

Year:

2013

Page Count:

20
Description
This 20 page briefing paper and its accompanying support activities are part of the Food Rights Now education and awareness campaign for young people and is designed to provide a set of briefing notes on:
different dimensions of world hunger today (definition, measurement, who's at risk, causes and debates) in addition to
providing an annotated guide to readings
relevant online sources of information
a set of suggested activities for introducing and exploring the issue of hunger
It can be used flexibly to support the teaching of geography (and other subjects) at Junior and Senior Cycle
The Hunger Map is an interactive support companion to the briefing paper. It can be downloaded, ordered as a poster or accessed as an interactive map online. The map includes key definitions of hunger and malnutrition, statistics and the geography of undernourishment.