Resource Title
Make Every Drop Count: Lent 2014 education resource packs
Summary
Trócaire's Lent 2014 educational resources focus on the global water crisis. Explore water as a justice issue, and learn about the impact of the global water crisis in both Ireland and Malawi.
The website is suitable for both smartboard and projector use and is supported with a range of sideshows, videos, interactive maps and photo galleries.
Students are encouraged to critically reflect on the impact of water scarcity and to consider avenues for ethical action.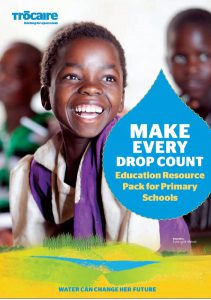 Description
Source: Our World, Our Water animation for schools by Trócaire (2014)
 The 2014 Lent campaign seeks to teach young people in primary and post-primary education about the global water crisis and its impact in Ireland and Malawi. Through active and cooperative learning classes will:
Explore: Water as a justice issue through active and creative learning
Think: Nurture imaginations by supporting students to make connections between water in their own lives and water globally
Act: Empower your students to take action to live sustainably
Students will be able to:
recognise how precious water is in their lives
identify the effects of water scarcity on people
living in the Global South
assess the impact of their actions on the earth's
resources so that they can make better informed decisions
The suite of materials included has been designed to support educators in exploring the global water crisis to meet a range of education needs and abilities. Included are infographics, syllabi links, slide shows, quizzes, worksheets, video clips (animations and videos with students in Malawi and Ireland) that support whiteboard use.
A range of games, interactive maps and a water webquest (to discover where all of the earth's water comes from and what it is used for) are also included.
The video materials are all supported on the whiteboard website with stimulus questions, educator and a range of actions.
Junior Primary video: Watch and learn about Enestina's daily routine
Senior Primary video: Do you think Erin in Ireland uses the same amount of water as Enestina in Malawi? Watch and find out
Post Primary video: Students in Malawi want to learn more about life in Ireland. Can you answer their questions?
All other links, actions and workshop educator supports available from Trócaire can be found at https://www.trocaire.org/education/lent2014
Further Reading
The 2014 Lent education resources link with the annual Better World Award and the Its Up to Us campaign which encourages a range of lifestyle changes that we can make that have a huge impact on the environment https://www.trocaire.org/uptous