Resource Title
Nothing to Envy: Ordinary Lives in North Korea
Summary
This book is the first to follow the lives of ordinary people in North Korea, one of the most repressive totalitarian regimes in the world today. There is no way to find out what North Koreans think about their society except to talk to defectors that have escaped to South Korea. Barbara Demick has interviewed about one hundred of these, but concentrates on six in the book.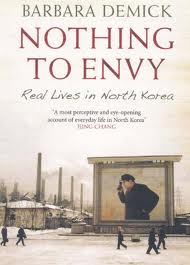 Description
All have lived in the north-eastern city of Chongjin, the third-largest city and one which is closed to foreigners. All have fled their country – the two teenage lovers who dated in secret, a woman doctor, a homeless boy, a loyal factory worker and her rebellious teenage daughter. Despite each story describing a life of poverty and repression, some of her subjects still think fondly of their country and feel guilty for leaving family behind.
In the totalitarian regime where they lived, all radio and television broadcasts are government sponsored. No outside films are shown except the odd Russian one. There are about forty films made in North Korea each year and these are the only choices. There is complete media censorship and they are told nothing about what life is like outside their country. One of the subjects was so surprised when he defected to South Korea that people could actually own cars. Through interviews with her subjects, smuggled photos and videos, the book spans the unpredictable years that saw the death of Kim II-Sung, the unchallenged rise to power of his son Kim Jong il, and the devastating effects of a famine that is estimated to have killed from 600,000 to two million people in the mid-nineties.
The title of the book comes from a song North Korean children are taught and until recently people seemed to have believed this, as they had near zero access to information about life outside their country. This is changing very slowly with the number of defections on the rise each year. It is the only country in the world not connected to the internet and it is really fascinating to read about what life is actually like there. Despite such a gloomy subject it is very absorbing and Demick's style of writing is so observant and readable she draws you in from the start.
Review by Mary McCarthy who is currently living in South Africa. Previously, she worked as a journalist in Dublin for five years. Her most recent post in Ireland was with RTE reporting business news and writing reviews for the broadcaster's entertainment website.