Resource Title
Painting for Change: a creative development education resource about mural painting, public art, citizenship and partnership
Summary
This resource is about inspiring others to paint wall murals. It tells the story of the journey of a group of young people from Ireland who travelled to Nicaragua, what they learned through their training and how they shared they their newly acquired skills.
It is interspersed with facts and background information on mural painting in Nicaragua, the partner organisation the group worked with, Funarte, and it also explains the steps to painting a mural.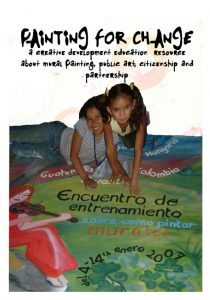 Description
The activities in the resource can be used on their own to explore the theme of global citizenship. The resource also includes photo images to help you relate the story to your group and worksheets to help the young people to engage with the themes.
Included in this resource:
Murals in Nicaragua
How to develop a mural idea
From ideas to design
From design to wall
Sharing what we learned
Publicising your mural
Launching the mural
Supporting young people to become active citizens in their neighbourhoods
Stages of design
Worksheets and sample photos