Resource Title
Participation – Spice it Up! Practical tools for engaging children and young people in planning and consultations
Summary
This fun and lively manual provides more than 40 tried-and-tested activities and games to get children and young people involved in the decision-making process.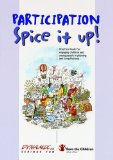 Description
Packed full of practical tools and ideas for engaging children and young people, Participation – Spice it Up! is serious fun and a fun way to deal with serious issues.
The main course of the book consists of over 40 tried and tested activities you can mix and match. These cover everything from getting started, gathering information, long-term planning, evaluation and keeping everyone AWAKE.
All the activities are clearly laid out and easy to follow with ideas on how you can creatively adapt them. At the end we've provided menus of activities from the sessions we've run all over the country with all kinds of people. All this fare is "Spiced up" with some great cartoons.
Further reading:
Children's Rights – Spice 'Em Up! was published in 2010 and is a companion resource to Participation – Spice 'Em Up.