Resource Title
Power and Equality Workshop Kit
Summary
With a focus on issues of power and issues of equality, this workshop kit, developed at the Network Weekend by EIL, will support educators on their journey to inspire global justice by raising awareness and becoming a development education multiplier working for global justice.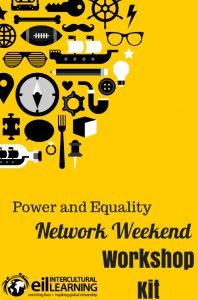 Resource Details
Date added:

13th December 2014

Author:

Development Education Committee Volunteers

Publisher:

EIL Intercultural Learning

Country of Publication:

Ireland

Year:

2014

Page Count:

30
Description
Each activity is accompanied by aim, learning outcome, detailed facilitator notes and debriefing and evaluation exercises. A strong 'action' component is included at the end of this resource for groups to follow.
A range of interactive stimulus materials are used in the course of the this resource such as projectors, external speakers, online videos, corporate scenario games and role play cards.
This resource is suitable for youth clubs, adult education and for post primary school use and can be adapted easily.
This workshop aims to explore the theme of power and equality in our world today and provide a forum and platform for participants to discuss, debate and plan for action and change.
Workshops Learning Outcomes:
By the end of this workshop participants will have…
Listed and explored the local and global issues relating to power.
Discussed, questioned and debated their perceptions of power and equality.
Developed their understanding and personal connection with the issues facing people in relation to power and equality.
A clear set of potential actions they can take to continue their engagement with these issues.