Resource Title
Preparedness 101: Zombie Pandemic
Summary
There are all kinds of emergencies out there that we can prepare for. The zombie apocalypse is just one of them. Presented as a highly polished graphic novel (with an accompanying emergency kit checklist) this fictional publication seeks to educate and entertain readers of all ages about what to do before a real emergency happens, rather than after.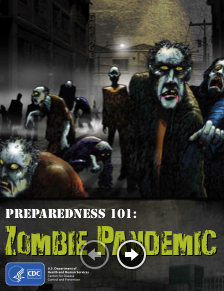 Description
The Public Health team at Centers for Disease Control and Prevention (CDC) has published a 40-page fully illustrated novel to educate on the importance of emergency preparedness. The graphic novel "Preparedness 101: Zombie Pandemic" demonstrates the importance of being prepared for a real emergency in an entertaining way that people of all ages will enjoy.
Readers follow Todd, Julie, and their dog Max as a strange new disease begins spreading, turning ordinary people into zombies. Stick around to the end for a surprising twist that will drive home the importance of being prepared for any emergency.
Included in the novel is a one page Preparedness Checklist so that readers can get their family, workplace, or school ready before disaster strikes.
Big Ideas in this Resource
Prepare for a disaster or emergency before it happens by having an emergency kit in your house (containing core items, such as food, water, supplies, tools, clothing, documentation etc. See Preparedness Checklist)
Once you've made your emergency kit, you should sit down with your family and come up with an emergency plan. This includes where you would go and who you would call if there is a flood, earthquake, or other kind of natural disaster or emergency.
Identify emergency contacts (local and national) and plan your evacuation route.
Planning for natural disasters or emergency situations can be an exciting exercise to do – at home, in work or in the classroom.