Resource Title
Smartphones and Sustainability
Summary
This video explores the hidden costs of our high level consumption of mobile phones. In a short space of time this video covers production of raw materials through to processing, distribution, usage and disposal of mobile technology, while examining the potential problems in each phase.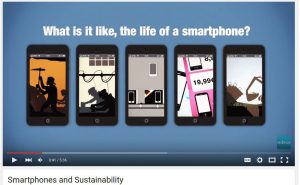 Description
Date: Dec 2, 2013
This resource highlights both the consumption levels of mobile phones in Germany (in a non- specific and transferable way) as well as the potential costs of this level of consumption. The video tells of mineral extraction in the Congo, factory production in Asia and Marketing in the West.
The animations are simple and yet captivating, and bring the narration to life. This video would work well either as an introduction to a lesson on technology and sustainable development, or as a 'round up' piece to inspire independent thought on the topic.