Resource Title
Tackling controversial issues in the citizenship classroom: a resource for citizenship education
Summary
This resource was created to help teachers tackle controversial issues in the classroom in a safe and effective way.
This resource guides teachers through reflections on teaching controversial issues and offers a practical guide to facilitating and teaching such issues in a controlled way.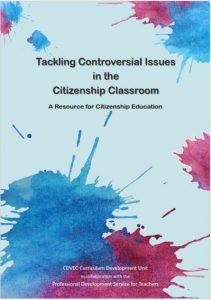 Resource Details
Author:

Lesley Emerson, Mary Gannon, Conor Harrison, Valerie Lewis, Anne-Marie Poynor

Publisher:

CDVEC Curriculum Development Unit

Country of Publication:

Ireland

Year:

2012

ISBN:

978-0-946791-39-2

Page Count:

84
Description
This resource is divided into three sections. The first section provides the teacher with an opportunity to consider some of the key debates surrounding pedagogical approaches to controversial issues and invites teachers to think about their own perspectives in relation to these debates.
The second section is the 'teaching controversial issues toolkit' which provides activates and advice on:
Encouraging discussion
Developing critical thinking
Developing empathy
The third section of this resource guides teachers to putting a lesson plan together for covering controversial issues. The resource ends with a suggested reading list.
This resource is easy to use, logical in its approach and accessible in its presentation. The theories and activities covered in this resource can be applied to various issues inside the classroom. With twenty 'tools' or activities in section two this resource is quite comprehensive.