Resource Title
Teacher Toolkit: Trade Justice
Summary
This facilitator's pack aims to address the challenges trade justice, making the links between poverty and debt, and exploring inequalities in the world today.
It offers resources to make workshops a relatively straightforward yet rewarding experience for teachers, and participative, stimulating and fun for students.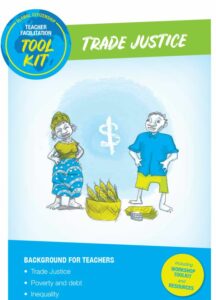 Description
International trade is the norm, but are the rules fair and does everyone benefit?
Students can act as part of the solution towards global equality.
This resource includes:
5 activities on trade and debt issues in the Global North and the Global South
4 activities on inequalities