Resource Title
The Bottom Billion
Summary
In this latest book, former World Bank economist Paul Collier has identified fifty eight stagnating countries where nearly one billion people live in extreme poverty. He argues that as the world becomes more socially integrated, this ghetto of destitution will be unacceptable and explosive.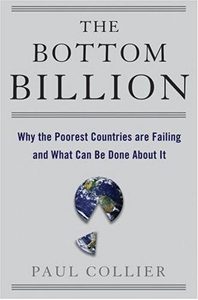 Description
A renowned economist and political analyst, Professor Paul Collier is currently Director at the Centre for the Study of African Economics at Oxford University. He formerly worked as an economist for The World Bank from 1998 until 2003.  His areas of activity are: governance in low-income countries, especially the political economy of democracy, economic growth in Africa, economics of civil war, globalisation and poverty.
Collier researches the causes and consequences of civil war; the effects of aid; and the problems of democracy in low-income and natural resource-rich societies. In addition to his academic output, his work has influence policy output. He has worked as a senior advisor to the British Government and has addressed the General Assembly of the UN.