Resource Title
The Business of Food: Who Makes the Rules?
Summary
This resource has been developed for teachers to use to explore, with their students, the impact of trade on hunger and poverty in the developing world.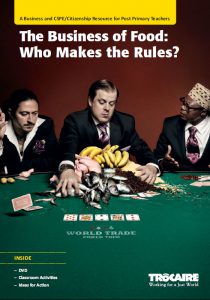 Description
Part 1: Trade and the Right to Food (4:40mins)

Part 2: Rural Livelihoods and Global Markets (7:27mins)

Part 3: Families, Agriculture and Food (5:10mins)

The resource has been written to compliment Civic, Social and Political Education curricula (CSPE).
It contains:
classroom and lesson plans;
a DVD with video footage of stories from developing countries;
ideas for taking action; student handouts; role-plays; case studies (such as w

ater supply affected by Coca-Cola bottling plants in India)

and a glossary of key terms.
Available from:
Support videos on YouTube: