Resource Title
The community work approach to peace building: a resource guide to inform and engage the sector
Summary
The guide seeks to explore and begin a dialogue on the relationship between community work and peacebuilding focused on social change based on experiences from Northern Ireland and the border region.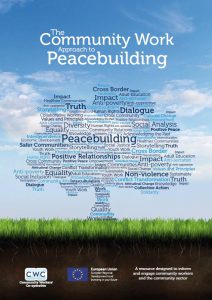 Description
This resource is rooted in the values, theories and practices of reconciliation and post conflict community work. Designed as a learning aid for community workers and those interested in the learning lessons and strategies from peace work, the resource aims to:
Provide examples of creative ways to bring about such change using case studies;
Broaden understanding of the ways to measure successes as well as examine the potential for improvement;
Includes a 'taking risks for peace' section
Assist community workers in achieving positive outcomes and impacts for the communities that they work with; and
Be a practical resource for community workers by providing contact details for case studies and other useful links.
The eight case studies included are drawn from the following projects/organisations:
EXPAC 'Conflict of Interest';
Donegal YMCA – Cross Border Community Leadership and Family Support;
Community Dialogue – Asylum Seeking Community in Belfast;
The Playhouse –  'Theatre of Witness' Project;
Donegal CWC –  'HELP' Project;
Abhaile Arís;
Londonderry YMCA – 'Gateway to Protestant Participation' and
C. Galligan/Sligo County Community Forum — Intercultural Studies Course.
The resource also includes an excellent extended glossary of key terms relating to peace, conflict and reconciliation work.