Resource Title
The Famished Road
Summary
Ben Okri's Booker prize-winning novel draws on the Nigerian belief in "spirit children" who die and are continuously reborn.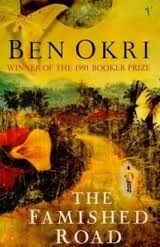 Description
Born in 1959 in Minna, central Nigeria, Ben Okri's style of writing is often compared to the magic realism of Latin American novelists. Okri is a member of an innovative group of young Nigerian writers, who have learned from older authors such as Chinua Achebe, Wole Soyinka and Flora Nwapa but have then moved out in new directions.
Okri moved to London when he was aged 18 months, after his father won a scholarship to study law. He returned to Nigeria when he was nine, and left again for England ten years later to study literature at the University of Essex.
During the mid-1980s, Okri was poetry editor for the West Africa magazine and also worked for the BBC. His first two novels, Flowers and Shadows (1980) and The Landscapes Within (1981) are set in Nigeria, as is his 1991 Booker prize-winning The Famished Road, the first in a trilogy, followed by Songs of Enchantment (1993) and Infinite Riches (1998). His most recent novel is Starbook.
Much of his early fiction explores the political violence that he witnessed during the civil war in Nigeria.
Further reading:
Study guide: https://www.bookrags.com/studyguide-the-famished-road/