Resource Title
The Gender and Intercultural Awareness Network Resource for Teachers and Trainers
Summary
This training manual is a result of a Grundtvig learning partnership which included organisations from Ireland, Spain, Italy and France. It is a training manual for teachers and educators who wish to address cultural and gender stereotypes within their classroom settings.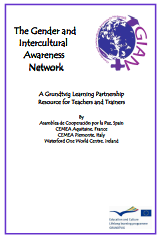 Resource Details
Author:

Waterford One World Centre, Asamblea de Cooperacion por la Paz, CEMEA Aquitaine, CEMEA Piemonte

Publisher:

Waterford One World Centre

Year:

2011

Page Count:

77
Description
This 77-page training manual is designed for teachers and educators interested in exploring gender and cultural stereotypes. It packed with 40 different activities divided into four colour-coded sections: introductory/ice-breaker activities; action lessons; reflective lessons; and evaluation.
It is recommended that for each class/workshop that users take one lesson from each section. Users are however, encouraged to adapt the manual to suit particular needs.
The manual also includes a glossary of terms, important dates related to gender and immigration events, immigration statistics for selected countries, a photopack and also provides links to additional resources and background information.
introduces vocabulary of Gender and Intercultural facilitation
lessons are designed to encourage people to take action on issues of cultural or gender equality
explores why people emigrate using case studies
Suggested use: designing workshops on gender and intercultural awareness
Big Ideas in this Resource
introduces vocabulary of Gender and Intercultural facilitation
lessons are designed to encourage people to take action on issues of cultural or gender equality
explores why people emigrate using case studies