Resource Title
The Year of Living Dangerously
Summary
Set in Jakarta just before and during the fall of Indonesian leader Sukarno in 1965, this novel is about a group of journalists who are covering the political upheaval that lasted a year.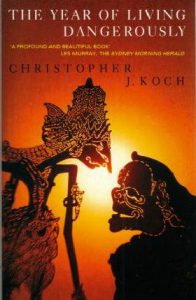 Description
Some have been there for months, and some like Guy Hamilton, have only just arrived. When Hamilton meets photographer Billy Kwan, his work assignment starts to get exciting, and then dangerous, as Billy introduces him to many local contacts.
Although the independence leader Sukarno made gains in health and education, his government is corrupt, the economy and democracy are floundering and the country is in a state of crisis. There is poverty and poor living conditions everywhere, but most of the journalists remain safe in their hotel in their bubble of luxury. Sukarno is eventually removed from office after an alleged coup attempt blamed on the communist party, which led to a military takeover by General Suharto. General Suharto once in power starts to impose his authoritarian rule and a purge of alleged communists follows, with half a million people slaughtered.
After reporting on a year of madness the journalists then take off to the next global crisis and Jakarta is left to recover. Although this is a novel, and not a historical account, it is really interesting to read about this seminal year for Indonesia. Spread across a chain of thousands of islands between Asia and Australia, Indonesia has a population of around 250 million people and there are very few novels about the country. After decades of repressive rule Suharto fell from power after riots in 1998 and now Indonesia is a democracy, although much of its population are still quite poor, it is making strides towards becoming a middle income country.
The author's brother was working as a journalist at this time in Jakarta and this book is loosely based on his experience. It's a quick and colourful read, and will increase your knowledge of this vast area.
Review by Mary McCarthy who is currently living in South Africa. Previously, she worked as a journalist in Dublin for five years. Her most recent post in Ireland was with RTE reporting business news and writing reviews for the broadcaster's entertainment website.