Resource Title
Through the Looking Glass: a guide to empower young people to become advocates for gender equality
Summary
There has not historically been a strong focus on gender and gender stereotyping as a key contributor to the difficulties facing young people. Having a gender analysis can help us make the connections necessary to respond effectively to the root causes of many of the issues young people are struggling with today.
This resource has been developed by The Y Factor – the youth voices for women's equality programme in the NWCI to support education practitioners and activists and young people to identify and discuss issues related to equality between women and men and support young people to take action.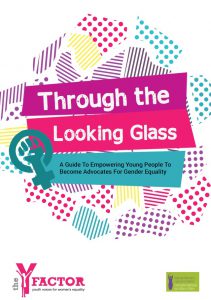 Description
Objectives of the Toolkit
To increase the knowledge, understanding and confidence of youth practitioners to plan and deliver activities for young people that help them to identify and discuss issues related to equality between women and men.
To provide youth practitioners with practical and reflective skills in working with young people around gender issues and women's equality.
To provide step-by-step guides for young people to take action on issues that they want to take action on.
To provide tools for ensuring that gender equality remains a core consideration at all levels within formal and informal education settings.
Who is this Toolkit For?
This toolkit is aimed at any person working with young people in a formal or informal education setting, including:
Training and education providers
Youth workers
Staff working in front line services, such as mental health and residential care
services
Community groups working with groups of young people
Teachers and staff in secondary schools
This toolkit is organised into four main areas:
What is Gender? – Provides background information on gender and gender inequality and introduces the practitioner to gender-conscious work with young people.
Getting Going on Gender – Provides detailed guides to gender-based activities on a range of different issues.
Taking Action – Provides advice on working with groups of young people to become advocates for gender equality.
Policy and Your Organisation – Provides step-by-step guides on gender-proofing policies and creating a gender equality policy within an organisation.