Resource Title
VOTE – Exploring Democracy Equality Participation and Elections
Summary
This resource has been specifically designed for teachers of CSPE interested in exploring the concept of democracy with their students. It focuses on local and national government as well as the European Parliament.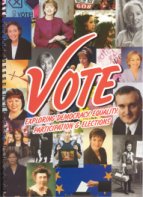 Description
The purpose of this 123 page resource is to stimulate discussion and challenge opinions about the nature of representation and gender balance in the democratic structures that surround us. The pack contains seven core classes on democracy and three optional sections of three classes each, focussing on Local Government, National Government and the European Parliament.
"The aim of resource is to engage and make students aware of the necessity for balance, fairness and equality of representation in the democratic process and to enable them to participate in it. This is achieved using active participative classroom activities that are both interesting and instructive and which will stimulate thought and discussion."
The activities and worksheets are easy to photocopy.