Resource Title
Wangari Maathai and the Green Belt Movement
Summary
Wangari Maathai discusses the links between the environment, poverty and governance and why a 'trickle-up' approach is so important for holistic development.
Then, the positive knock-on effects of planting trees for a community in Kenya are highlighted. These include food security, gender equality, access to clean water and environmental regeneration.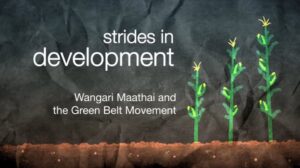 Description
This documentary helps make the ideas of holistic development more accessible by offering a real world example of a holistic approach in action. Furthermore, it gives a voice to the individuals who are impacted by the issues at hand.
This short documentary was released as a supplement to the feature documentary 'Good Fortune', directed by Landon Van Soest.
Available from:
More videos in this series can be found at: