Resource Title
Wealth: Having it all and wanting more
Summary
This Oxfam briefing paper on wealth is part of a series of papers written to inform public debate on development and humanitarian policy issues.
This report is shocking in that it exposes the lobbying elite agenda whereby public resources that should be directed to benefit the whole population instead reflect the interests of the wealthy. This report also highlights the distance between the world's most wealthy and most poor, noting on the first page that the richest 1% of the global population own 48% of the world's wealth.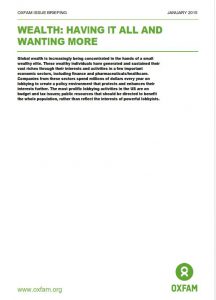 Description
This resource is focused on analysing and critically engaging with global wealth. It examines how wealth is becoming more concentrated within the hands of a few, economic and social sectors that this wealth has occurred in, lobbying, and questions around rising inequality.
Discussions are illustrated with empirical data which strengthens the arguments in this piece. This resource provides a comprehensive insight to the wealth debate while still being very readable.
More info
This briefing is part of a series of publications written to inform on public debate and development. For more information www.oxfam.org/en/research