Resource Title
Women, Gender and Development
Summary
The resource outlines some of the thinking, ideas and international agreements reached on women's development and provides descriptions of the issues as they relate to women in development to guide thinking on the issues. Importantly, the resource seeks to bridge the gap between the theoretical 'models' of women's development and the reality of women's lives in Zambia and other African countries. It also looks at the differences between the terms 'women' & 'gender' and their meaning for women's human development.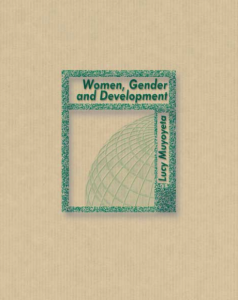 Resource Details
Author:

Lucy Muyoyeta

Country of Publication:

Ireland

Year:

2007

ISBN:

095351367X

Page Count:

28
Intended Audiences:

16+ years, Adult and Community Settings, Higher Education, Senior Cycle, Transition Year, Youth Groups

Format:

Briefing

Topics:

Adult Education, Development, Education, Gender, Human Development, Women's Rights, Youth
Description
The small 28 page booklet is brimming with information on women and development. In 6 sections is tackles: theories of women's issues in development; outlines the practical approaches to the development of women; outlines the relevant development indexes which measure women's progress in development; looks at the situation of women in development; summarises some of the key development promises made to women and finally explores the question "is development working for women?"
Big Ideas in this Resource
At a glance historical overview of gender terms and approaches in responding to the development challenges of women.
Outlines the relevant measurements in identifying a country's progress in women's development
Brief, easy to read and understand booklet on the situation of women's development in Africa, specifically Zambia.
Further reading:
The Convention on the Elimination of All forms of Discrimination Against Women www.un.org/womenwatch/daw/cedaw/