Resource Title
World Hunger
Summary
This 53 page resource on World Hunger covers four key areas related to hunger: understanding hunger; ending hunger; the international response to hunger; and Concern Worldwide's approach to hunger.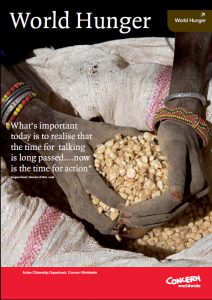 Resource Details
Author:

Lizzy Noone, Grainne O'Brien and Michael Doorley

Publisher:

Concern Worldwide

Country of Publication:

Ireland

Year:

2009

ISBN:

9780952450665

Page Count:

53
Description
World Hunger is divided into four comprehensive sections. The first section (Understanding Hunger) explores definitions and terminologies used to describe hunger and explain what it actually is. It also explodes some myths around the issue. The second section is about debating the issue of hunger and some of the proposed solutions for food crises are – including bio-fuels, volatile food prices, international agricultural policy and GM foods and biotechnology.
The last two sections look at the international response to hunger – highlighting in particular Concern's approach to the issue.
Further Reading
Other publications from Concern's Campaign Resource series:
Other research reports: