The 2021 UN Food Systems Summit is a historic opportunity to fix our broken food systems. But what is it?, when is it? and why does it really, really, matter?
Join us for an open discussion with Q&A format to find out what's happening at the summit and how you can play a role in transforming how we produce and consume food and meeting the challenges of climate change.
Date: Thurs Feb 11th, 2021
Duration: 40 minutes
Discussion and Q&A
Format: online registration via Zoom
Hosted by
Olive Towey, Senior Policy Advisor on Hunger, Concern Worldwide
Sophie Healy-Thow, host of Midday Snackbox podcast and University College Cork food activist
Of interest to consumption activists, waste campaigners, food justice campaigners, chefs, home economics teachers and more!
Suggested reading:
A lunchtime briefing event brought to you by developmenteducation.ie and Concern Worldwide
For more on developmenteducation.ie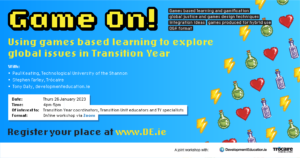 How can young people learn about issues affecting our world today through games-based learning? What is gamification and what contributions can games-based approaches make in challenging and stirring action in Transition Year spaces on global justice and human rights?
Read More »