Its been more than two years later since the outbreak of the Covid-19 pandemic, many countries still face an impossible choice – pay back debts or invest in health care.
Oxfam have been tracking the numbers. Explore the Covid-19 debt counter.
The debt counter was developed as part of an action joining leaders from the African Union and over 800,000 campaigners to petition G20 leaders to #CancelTheDebt
How do debt service payments compare with spending on healthcare, education and social protections during the pandemic?
For more information on debt statistics and the combined impact of crises of inflation, inequality and COVID-19, see the media briefing paper by Oxfam, First Crisis, Then Catastrophe (April 2022).
Source: The material Cancel the Debt – a counter is reproduced with the permission of Oxfam, Oxfam House, John Smith Drive, Cowley, Oxford OX4 2JY, UK. Oxfam does not necessarily endorse any text or activities that accompany the materials.
More on developmenteducation.ie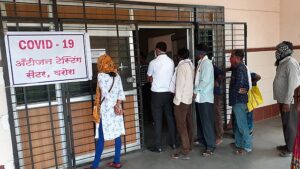 Kai Evans explores how governments used COVID-19 restrictions for the wrong reasons.