Resource Title
10 Myths About Our Global Food System
Summary
How much do you know about how food is produced, consumed and wasted?
Explore 10 common myths about the agri-food industry, GMOs and consumer 'pester power'.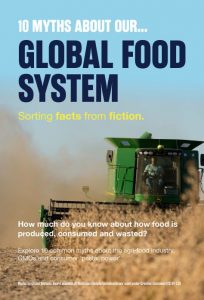 Resource Details
Date added:

23rd September 2021

Author:

Tony Daly and Aoife Mc Donald

Publisher:

DevelopmentEducation.ie

Country of Publication:

Ireland

Year:

2021

ISBN:

978-1-8381509-6-9

Page Count:

30
Description
This pocket-size booklet includes:
Why thinking about our global food system matters
10 short myths about progress on food production, who benefits from industrial agriculture, the realities of GMOs, the EU's Common Agricultural Policy and the impact of farming subsidies.
Links to the Sustainable Development Goals
References per each myth following a fact or fiction approach and an explainer
The 10 Myths About….series looks to sort facts from fiction on key global development, human rights and justice issues.