Resource Title
Allah is not Obliged
Summary
'Allah is not obliged to be fair about the things he does on earth.' These are the words from the young boy in Ahmadou Kourouma's novel about an orphan who becomes a child soldier in the civil wars that swept through western Africa in the 1990s.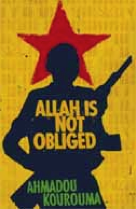 Resource Details
Author:

Ahmadou Kourouma

Publisher:

Anchor

Country of Publication:

United Kingdom (UK)

Year:

2007

ISBN:

9780099433927

Page Count:

224
Description
Born in Ivory Coast in 1927, Ahmadou Kourouma was educated in Mali, and served with the French army in Indo-China from 1950 to 1954. He then went to study in Paris and Lyon and married a French woman. He returned to Côte d'Ivoire after its independence in 1960, yet he found himself questioning the government who viewed him as the enemy. After brief imprisonment, Kourouma spent several years in exile in Algeria, Cameroon and Togo before finally returning to his native country. Kourouma's novels are critical of post-colonial governments in Africa and he is very well known in France where he has won many literary prizes. He died in 2003 and is viewed as one of the most important African novelists writing in French.
About Liberia
Liberia in Western Africa, borders the North Atlantic Ocean between Cote d'Ivoire and Sierra Leone and has a population of around 3.5 million. It was settled by freed American and Caribbean slaves in 1822, and by 1847 the Americo-Liberians were able to establish a republic. Today Liberia's population is mostly made up of indigenous Africans. Since 1989, a series of devastating civil wars and the role it played in a rebellion in neighbouring Sierra Leone, have made the country one of the most dangerous places in the world today.
In 1980, a military coup led by Samuel Doe was the start of a decade of authoritarian rule, until future president Charles Taylor launched a rebellion against Doe's regime that led to the prolonged civil wars in which Doe was killed. A 2003 peace agreement ended the fighting and prompted the resignation of Charles Taylor, who now faces war crimes charges in The Hague.  Democratic elections in 2005 brought Africa's first female President, Ellen Johnson-Sirleaf to power.
The UN maintains some 15,000 soldiers in Liberia and its security situation continues to be fragile. It is one of the UN's most expensive peacekeeping operations.