Resource Title
Burma VJ
Summary
Sub-titled "Reporting from a Closed Country", this inspirational documentary from the Danish filmmaker, Anders Østergaard, is about the 2007 Burmese military regime's brutal crackdown on peaceful demonstrators protesting about a rise in fuel prices.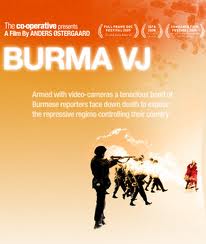 Description
A group of monks had led the rebellion against the dictatorship in Burma that had ruled the nation for four decades.  The only footage of the uprising and the ruthless army suppression was filmed on hand-held cameras by brave video-journalists (VJs) on the streets of the capital Rangoon and then smuggled out of the country.  Risking torture and life in prison, these courageous young citizens of Burma insisted on keeping up the flow of news from their closed country.
The film is absolutely captivating as both a day-by-day account of the uprising in Burma and as a human story told through the eyes of 27-year old "Joshua", who co-ordinates the illicit coverage after fleeing to Thailand.  Burma VJ is essential viewing and shows what can be done through the ingenious use of small cameras and mobile phones by brave, resourceful opponents of repressive regimes.
About Burma
Until January 2012 Burma, also known as Myanmar, was closed to the global media. The South East Asian country, which has a population of over 58million people, was long considered a pariah state, isolated from the rest of the world and with an appalling human rights record.  From 1962 to 2011, the country was ruled by a military junta that suppressed all dissent and stood accused by the UN and other organizations of human rights violations such as child labour and forcible relocation.
The first general election in 20 years was held in 2010. This was hailed by the ruling junta as a big step in the transition from military rule to a civilian democracy, though opposition groups alleged widespread fraud. It was boycotted by the main opposition group The National League for Democracy (NLD). The leader of the NLD, Aung San Suu Kyi, had been under house arrest in Burma for almost 15 of the 21 years from 1989 until her release in 2010. In 1990 her party won national elections, but these were annulled by the army and she was never allowed to take office.
A military-backed civilian-led government was installed in March 2011 and a series of reforms since then has led to speculation that decades of international condemnation and sanctions may be coming to an end.
Burma is a resource rich country but one of the least developed in the world. Buddhism is practiced by almost 90% of the population.
Other information
The official website includes a preview of the movie, where to buy/rent/watch a screening, a blog, and where to go and what to do to learn more and to take action on the issues raised in the movie.