Resource Title
Doing Development Education: Junior Cycle Digital Media Literacy
Summary
Development Education themes, such as ethics, respect, rights and responsibilities, consumerism, citizenship, democracy and the role of the media form part of the learning in the junior cycle Digital Media Literacy Short Course.
This resource aims to support Digital Media teachers to teach through a global justice lens, a lens with great educational benefits, which meets the requirements as laid out in the junior cycle Digital Media Literacy specification, and in the (2015) Framework for Junior Cycle.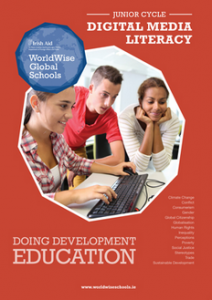 Description
'DE is implicit in the junior cycle Digital Media Literacy short course specification. The rationale section of the specification recognises that young people are increasingly making and sharing media as a way to 'communicate and engage with each other and with the wider world.'
– p.3 Doing Development Education: Junior Cycle Digital Media Literacy (2016)
This resource supports junior cycle Digital Media Literacy teachers – those starting out on their DE journey, as well as the more experienced DE teacher – to take advantage of the myriad of opportunities to create rich learning experiences for students.
Learning Outcomes – DE can be integrated and add value to many of the learning outcomes articulated in the four strands of the Digital Media Literacy specification. For the purposes of showing how DE can be embedded across the entire short course, a cross-section of 12 learning outcomes, at least one from each of the strand elements, are treated as 'main' learning outcomes in this resource.
Resources, texts, stimulus materials – Digital Media Literacy teachers have complete freedom to choose relevant resources, texts and stimulus materials to support specific learning outcomes. This freedom contributes greatly to the possibilities to embed DE learning in this short course.
Structure
Strand 1: My Digital World. Strand elements: My Digital  Life; Respectful and Responsible Use;
Strand 2: Following My Interests Online. Strand elements: What is Digital Content?; Searching and Evaluating; Expressing Through Digital Images;
Strand 3: Checking the Facts. Strand elements: Digital Media Formats; Looking for Bias; The Role of Digital Media in Our Society
Strand 4: Publishing Myself. Strand Elements: Social Media and Me; Following my passion;
Resource links – get active, get engaged
More 'Doing DE' guides are available from WorldWise Global Schools, such as:
Doing Development Education Through a Global School Partnership
Doing Development Education for Practitioners and Organisations
Doing Development Education as a School Network
The Doing DE resource series enables teachers to challenge their students to look at our world, and our place in making it more just, equitable and sustainable.