Resource Title
Doing Development Education: Junior Cycle Visual Art
Summary
This resource aims to support Visual Art teachers to teach through a global justice lens, a lens with great educational benefits, which meets the requirements as laid out in the junior cycle Visual Art specification, and in the (2015) Framework for Junior Cycle. It is one of a series of WorldWise Global Schools resources that support teachers in different subject areas to address Development Education-related themes and concepts.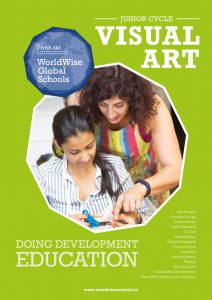 Description
'The rationale for junior cycle Visual Art recognises the important contribution that the subject can make to 'promote divergent thinking' and 'respect for the work and the opinions of others'. The rationale also acknowledges the 'highly visual' nature of contemporary society, and states that 'visual literacy is an essential requirement of active citizenship' because 'it enhances the young person's ability to interpret, critique and decode visual messages' (DES, Junior Cycle Visual Art specification, pages 4-5).

Both DE and Visual Art share a central aim of empowering students to engage with the world around them and to 'develop authentic, real-world problem solving capacities' (DES, Junior Cycle Visual Art specification, page 6).'
– p3. Doing DE Junior Cycle Visual Art (2017)
Learning Outcomes and Assessment
This resource supports teachers to take advantage of the opportunities to create rich and layered learning experiences and outcomes for students, supporting ongoing and summative assessment tasks, with opportunities for self- and peer-assessment, as well as opportunities for teachers to give feedback to individual learners.
For the purposes of showing how DE can be embedded in junior cycle Visual Art, this resource exemplifies how DE can support teaching, learning and assessment from across the:
three strands: 

Strand One: Art; Strand Two: Craft; and Strand Three: Design

five cross-cutting, integrated strand elements: 

Critical and visual language; Drawing; Visual culture and appreciation; Art elements and design principles; and, Media.
The activities outlined in this resource are designed to support the achievement of Visual Art learning outcomes by engaging students with:
Real-world problems

Stimulus artwork and texts
More 'Doing DE' guides are available from WorldWise Global Schools, such as:
Doing Development Education Through a Global School Partnership
Doing Development Education for Practitioners and Organisations
Doing Development Education as a School Network
The Doing DE resource series enables teachers to challenge their students to look at our world, and our role in making it more just, equitable and sustainable.