Resource Title
Doing Development Education: Junior Cycle English
Summary
This resource aims to support English teachers to teach through a global justice lens, a lens with great educational benefits, which meets the requirements as laid out in the junior cycle English specification, and in the (2015) Framework for Junior Cycle.
It is one of a series of WorldWise Global Schools resources that support teachers in different subject areas to address Development Education-related themes and concepts. The Doing DE resource series enables teachers to challenge their students to look at our world, and our role in making it more just, equitable and sustainable.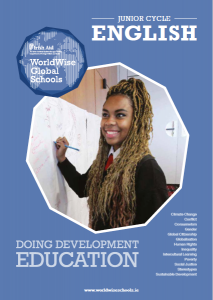 Description
This resource supports teachers to take advantage of the opportunities to create rich and layered learning experiences and outcomes for students, supporting ongoing and summative assessment tasks, with opportunities for self- and peer-assessment, as well as opportunities for teachers to give feedback to individual learners.
For the purpose of showing how DE can be embedded in junior cycle English, this resource exemplifies a cross-section of nine learning outcomes. These were chosen to show how DE can support teaching and learning in the three strands: Strand One: Oral Language; Strand Two: Reading; Strand Three: Writing.
Three cross-cutting, integrated strand elements: Communicating as a listener, speaker, reader, writer;
Exploring and using language; Understanding the context and structure of  language.
Classroom-based assessments: Oral Language; Collection of Student's Texts followed by the written Assessment Task
More 'Doing DE' guides are available from WorldWise Global Schools, such as:
Doing Development Education Through a Global School Partnership
Doing Development Education for Practitioners and Organisations
Doing Development Education as a School Network