Resource Title
Doing Development Education: Modern Foreign Languages
Summary
This resource aims to support teachers of Modern Foreign Languages (MFL)* to teach through a global justice lens, a lens with great educational benefits, which meets the requirements as laid out in the junior cycle MFL specification, and in the (2015) Framework for junior cycle. It is one of a series of WorldWise Global Schools resources that support teachers in different subject areas to address Development Education-related themes and concepts.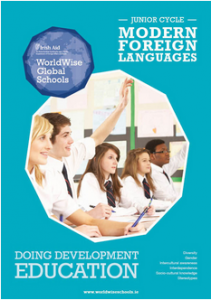 Description
'The rationale for junior cycle MFL recognises that the study of foreign languages contributes to the capacity of students to participate 'in a global society'. It states that language learning gives students 'access to new worlds and different ways of thinking'. Engagement with languages can develop students' 'socio-cultural knowledge and intercultural awareness' and help students to appreciate diversity (NCCA, Specifcation for junior cycle Modern Foreign Languages, page 4). Both Development Education and junior cycle MFL share a central aim of encouraging students to value their own and other cultures (NCCA, Specifcation for junior cycle Modern Foreign Languages, page 6).'
– p.3, Doing Development Education: Junior Cycle Modern Foreign Languages (2017)
This resource supports teachers to take advantage of the opportunities to create rich and layered learning experiences and outcomes for students, supporting ongoing and summative assessment asks, with opportunities for self- and peer-assessment, as well as opportunities for teachers to give feedback to individual learners.
To show how DE can be embedded in junior cycle MFL, this resource uses three

Strand Three (Socio-cultural knowledge and intercultural awareness)

learning outcomes as entry points.

However, the teaching and learning activities exemplifed for these learning outcomes also support student achievement in relation to additional learning outcomes in

Strand One (Communicative competence)

,

Strand Two (Language awareness)

and majority of the remaining learning outcomes in

Strand Three.

Doing DE in junior cycle MFL also lends itself to the completion of Classroom-Based Assessments (oral communication, student language portfolios etc.)
Resource Structure
The learning outcomes identified in on page 6 are presented with relevant background information, and with ideas for activities in the classroom and beyond. Although each learning outcome is presented with a standalone set of activities, it is possible to do all the activities in this resource in order as a distinct teaching and learning unit.
For this reason, the order in which the learning outcomes are presented is not chronological.
The LO 3.5 section is in second place, because good practice in development education would suggest that issues around stereotyping and discrimination be addressed early to pre-empt a situation arising where stereotypical thinking might continue or be reinforced. This non-linear approach is in keeping with the three inter-related nature of the three strands in the Modern Foreign Languages specification.
More 'Doing DE' guides are available from WorldWise Global Schools, such as:
Doing Development Education Through a Global School Partnership
Doing Development Education for Practitioners and Organisations
Doing Development Education as a School Network
The Doing DE resource series enables teachers to challenge their students to look at our world, and our place in making it more just, equitable and sustainable.