Resource Title
Exploring Diversity & Global Justice through the Arts: an educational resource for second level schools
Summary
This resource aims to support second level teachers to bring a justice perspective into their classroom using active learning and arts methodologies. This resource aims to prepare teachers and learners to explore global development and social justice issues using other development education resources and Transition Year modules.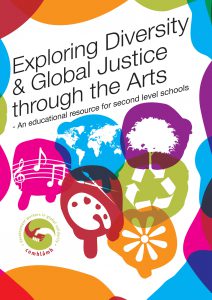 Description
The resource pack includes guidelines and checklists for the effective use of interactive methodologies common to development education resources in a classroom setting. It contains background information and Reflection Activities to prepare teachers to explore justice issues with learners.
The pack also includes activities, worksheets, images, curriculum links, videos and website links that teachers can use with their learners to deepen understanding of culture and identity, and how they impact on people's understandings of development.
Comhlámh hopes this resource will assist teachers to:
Explore identity, challenge discrimination and promote justice locally and globally.
Prepare learners for living in a diverse and complex world.
Create a school culture that celebrates diversity and engagement with social justice issues.