Resource Title
Finding Our Voice: a resource on debating world development
Summary
Using the 'art of debating' as a platform for learning about global development issues and big ideas, Finding Our Voice is an ideas and activities resource.
It is designed to support debates about world development and human rights issues in post primary schools, youth groups and at community level and offers a range of debate materials, practical tips and tools for organising debates and a review and assessment section.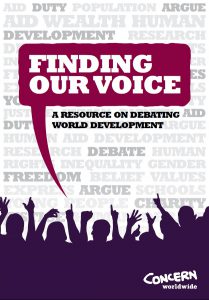 Resource Details
Author:

Tony Daly, Michael Doorly, Ciara Regan and Colm Regan

Publisher:

Concern Worldwide

Country of Publication:

Ireland

Year:

2012

Page Count:

68
Description
Finding Our Voice is a practical, 'hands-on' resource using debating as a platform for learning.
It has been written as an accessible guide to debating world development for teachers and educators who may not have done 'debates in the classroom' before, and is based on Concern's experience of running the national Concern Debates competition over the past 30 years.
Designed to complement Transition Unit plans, the Welsh Baccalaureate, the Junior Cycle (Media Studies, CSPE) and the Leaving Certificate (Geography, English, Economics, History and Business Studies).
This resource aims to:
Use active and self-reflecting techniques
Introduce the concepts of human development, human rights and human dignity
Identify values and develop positive attitudes towards self, others, the environment and the wider world
Promote awareness of political, economic, and social issues impacting on the developing world (civic social and political education)
Guide analysis of material, enabling the student to make a good argument, defend an argument while listening to the opposing point of view and learn to challenge assumptions both personal and societal
Help develop proficiency in critical thinking, research, public speaking and debate
Encourage co-operation with team members and recognise how different roles can contribute to the overall goals
Provide opportunities to take action at local as well as global level on sustainable human development
Finding Our Voice includes:
A guide to debating world development issues in schools and elsewhere
A range of teaching methods and active learning approaches for educators, depending on available time and resources
Background information and analysis on development issues and the value associated with debating world development
10 starter activities, 30 sample motions, worksheets, assessment and evaluation sheets, skill drills and methodology supports
Available from:
Print copies of Finding Our Voice can be ordered from Concern's Active Citizenship Unit by:
Cost €10 plus p&p