Resource Title
From the Local to the Global: Key Issues in Development Studies
Summary
'Think global, act locally' is a phrase often used to describe the importance of popular activism and an awareness of the issues surrounding globalisation and development.  This book is an accessible and comprehensive introduction to key concepts in development studies that are central to understanding the causes of poverty, inequality and injustice in the global North and South.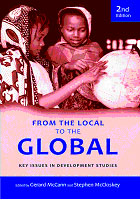 Resource Details
Author:

Edited by Gerard McCann & Stephen McCloskey

Publisher:

Pluto Press

Country of Publication:

Northern Ireland

Year:

2009

ISBN:

9780745328430

Page Count:

300
Description
This second edition of the book contains new chapters on climate change, neoliberalism, child labour, popular movements in Latin America and the development process in Africa.  Existing chapters have been revised and updated to analyse the impact of the global economic recession on international development.
At 300 pages in length, this book introduces key issues in development studies with 15 chapters covering the issues that are fundamental to an understanding of international development:
Debates international development in the context of the global financial crisis
Provides a comprehensive introduction to key development issues
A mix on contributors from the development NGO and academic sectors
Excellent support to courses on development issues
Suggested Use: Useful reference resource supporting courses on development issues
Further Reading: Background papers and more at the Centre for Global Education website https://www.centreforglobaleducation.com
Available from:
Available from the Centre for Global Education, 9 University Street, Belfast, BT7 1FY
Tel: 048 90241879
Cost €18.00, 2009, 2nd edition