Resource Title
Gníomhaíocht ar mhaithe leis an tSaoránacht Dhomhanda: Sraith Straitéisí do Mhúinteoirí
Summary
Is é aidhm na sraithe straitéisí seo ná leas a bhaint as léargas comhshaoil ar an oideachas chun an bhearna idir an tOideachas le haghaidh Forbairt Inbhuanaithe agus an tOideachas Forbartha a shárú.
Tabharfaidh an paca acmhainní seo roinnt smaointe spraíúla cruthaitheacha duit maidir le conas fáil amach faoi na Spriocanna Forbartha Inbhuanaithe, conas saoránaigh gníomhacha domhanda a chruthú agus conas do chion féin a dhéanamh ar mhaithe leis an bpláinéad.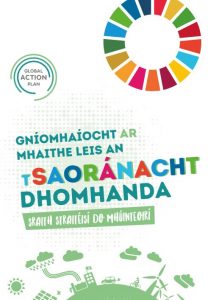 Resource Details
Author:

Julia Haimlinger, Deirdre Walsh, Deirdre Walsh, Deirdre Walsh and Vanessa Moore

Publisher:

Global Action Plan

Country of Publication:

Ireland

Year:

2020

Page Count:

52
Description
Tá an tsraith straitéisí eagraithe ina 8 gcaibidil, a bhfuil téama ar leith ag gach ceann díobh, agus é sin nasctha go dlúth leis na Spriocanna Forbartha Inbhuanaithe, nó na Spriocanna Domhanda mar a ghlaoitear orthu go coitianta.
Is cinnte gur féidir leat tiontú ó chaibidil go caibidil, molaimid tosú ar Chaibidil 1 mar go soláthróidh sé réamhrá maith duit ar an bhForbairt Inbhuanaithe agus cuirfdh sin ar do chumas na caibidlí a leanann a léamh ar do chaoithiúlacht. I ngach caibidil, tá gníomhaíochtaí tosaigh, gníomhaíochtaí príomha, mionchluichí agus ábhair bhreise!
Ag tús gach caibidle, feicfdh tú go soiléir na Torthaí Foghlama, na naisc Thraschuraclaim agus Príomhscileanna tábhachtacha.
(as Gaeilge)