Resource Title
Good practice guidelines for development education in schools
Summary
Based on recent research, this peer reviewed report details how development education (DE) can be integrated by educators into both the current and proposed curriculum in formal education.
For good practice to develop, other areas of school life also should be considered, for example internal and external relationships and school policies. This is reflected in the range of indicators and frameworks in the document which can be used to measure progress.
Nine case studies are also supplied by IDEA members, providing real examples of good practice in DE in schools.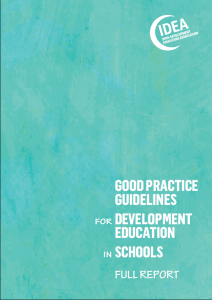 Resource Details
Author:

IDEA Working Group on Formal Education

Country of Publication:

Ireland

Year:

2013

Page Count:

52
Description
This report is of interest to teachers and development educators working or preparing to work in primary and post primary formal education.
Report aims:
To encourage discussion about indicators of good practice for DE in primary and post primary schools
To facilitate the compilation of good practice examples by IDEA members working in or with the Formal Education sector
The report includes an outline of opportunities for DE in both primary and post primary schools; 9 case studies showing links to relevant good practice indicators (knowledge and ideas, values and perceptions, capabilities and skills, experiences and action); how to find out more information (website links, reports, sources of DE resources).
The report is divided into 5 chapters:
Understanding development education
Development education in the curriculum
Development education in schools – towards good practice
Indicators of good practice in development education for schools
Examples of good practice in development education for schools
The members of the formal education working group that produced the report: Aoife McTiernan, Aoife Rush, Blathnaid Calhoun, Bríd Dunne, Darran Irvine, Emma Murphy, Eva Creely, Helen Mahony, Joe Clowry, John Alexander, Liam Barnard, Maeve Seery, Maria Barry, Mary McCarthy, Mella Cusack, Patsy Toland and Rosalind Duke. IDEA staff also involved in the production of the resource: Eimear McNally, Frank Geary, Heidi Holden, Matthias Fiedler, Siobhan Sleeman and Susan Gallwey.
Further info: Information on the Formal Education Working Group activities and members: https://www.ideaonline.ie/content/current-working-and-task-groups-idea