Resource Title
Responsible Consumption and Production – Education resource for teachers and facilitators
Summary
A booklet for teachers and facilitators featuring information, statistics and activities to address issues around how much we use, where our products are from and what happens to them when we throw them away.
Activities look at the amount of waste we produce and raising awareness of this important issue.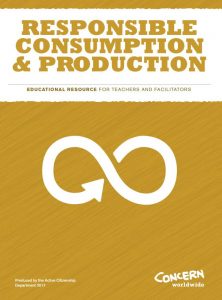 Resource Details
Author:

Concern Active Citizenship Unit

Publisher:

Concern Worldwide

Country of Publication:

Ireland

Year:

2017

Page Count:

8
Description
Although we may be from different countries, speak different languages and have different cultures, the planet does not recognise the differences we see in each other. Something that happens in one part of the world can have a very real every real and profound effect on another part of the world many miles away from the event. Over consumption and production methods are seriously damaging the environment which impacts on the most vulnerable communities. If we continue to produce and consume at current rates, using the same methods we will also be affected and it will lead to devastating consequences for parts of the world already feeling the effects of climate change.
Responsible Consumption and Production – Education resource for teachers and facilitators contains activities, statistics and information to explore sustainability in what we make, use and produce. It looks at the link between the way we organise production methods and the impact on our world around us from pollution to climate change.
The booklet includes statistics, three activities complete with resources ready to photocopy and key terminology.
Key learning outcomes:
Know what impact we are having on the world around us
Understand how we need to make a change in order to combat climate change and pollution which impact most on those living in poverty
Be able to think about how we can take action in our local and national communities on this issue.
Series: This booklet forms is part of the Concern Sustainable Development Goals Education Resources Series of 11 booklets which includes the Sustainable Development Goals, Development Education FAQs, No Poverty, Hunger, Good Health and Well-Being, Sustainable Cities and Communities, Responsible Consumption and Production, Peace, Justice and Strong Institutions, Climate Change, Clean Water and Sanitation and Gender Equality.