Resource Title
Sustainable Cities and Communities – Education resource for teachers and facilitators
Summary
A booklet for teachers and facilitators featuring information, statistics and activities to address issues around sustainability in cities and communities around the world.
Activities introduce why our home environment is important to being able to thrive, and what steps need to be taken to improve the world for all communities.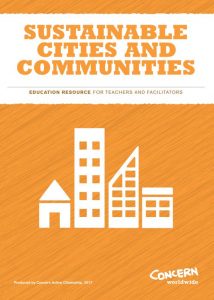 Resource Details
Author:

Concern Active Citizenship Unit

Publisher:

Concern Worldwide

Country of Publication:

Ireland

Year:

2017

Page Count:

8
Description
Sustainable Cities and Communities – Education resource for teachers and facilitators contains 3 activities, statistics and information to explore sustainability in our cities and communities, the making our living environment better as how working towards SDG11 will impact on all the global goals.
The booklet includes statistics, three activities complete with resources ready to photocopy and key terminology.
Key learning outcomes:
Know why working towards sustainable cities is important
Understand how our environment can affect our health, well-being and opportunities
Be able to think about what sort of communities we want to live in.
Series: This booklet forms is part of the Concern Sustainable Development Goals Education Resources Series of 11 booklets which includes the Sustainable Development Goals, Development Education FAQs, No Poverty, Hunger, Good Health and Well-Being, Sustainable Cities and Communities, Responsible Consumption and Production, Peace, Justice and Strong Institutions, Climate Change, Clean Water and Sanitation and Gender Equality.