Resource Title
The Activist's Handbook: A Guide to Activism on Global Issues
Summary
This publication is a practical tool to individuals and organisations interested in taking the step from concern about global injustices and curiosity about the wider world to active participation in campaigns and social movements that are trying to change the world for the better.  This book helps to bridge the gap between development education and social activism by providing case studies of ongoing campaigns and actions happening in Ireland.
Profiles of three committed activists are also included who have been working for many years on their respective issues.  They offer inspiring stories of individuals responding to the needs of others.  The book encourages others to take the same steps.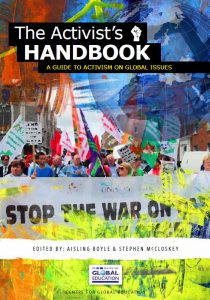 Description
A book divided into three sections:
Section one contains profiles of three Irish based activists who have been campaigning on global issues.
Section two looks at eight local and global campaigns that have effectively raised public awareness of important development issues.
Section three profiles 50 organisations in Ireland that are involved in campaigning or education on global issues.
As a 160 page A5 resource this guide is small enough to take on the go. By bridging the gap between education and activism it is also:
A guide to social activism
Useful reference resource for campaigners
Inspiring through the use of case studies