Resource Title
The Grass is Singing
Summary
This is Lessing's first novel and tells the story of Dick and Mary Turner, 'white' farmers in a remote part of Zimbabwe, then Rhodesia.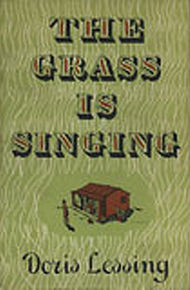 Description
One of the most influential writers of the last century, Doris Lessing has won almost every literary prize going. Born in Persia (now Iran) in 1919 to British parents, she moved with her family when she was five to a farm in Southern Rhodesia (now Zimbabwe). She left school at 14 and educated herself. She worked many odd-jobs and had several short stories printed before her first novel "The Grass is Singing" was published in 1950. Over the past sixty years, Lessing has written over 60 books. She has turned her hand successfully to science fiction, social commentary, short stories, plays, fiction, operas and poetry.
The best known of her work include the five books that make up the semi-autobiographical Children of Violence collection, also known as the Martha Quest series. In 1960 Lessing's breakthrough novel, The Golden Notebook, was hailed as a key work by the growing feminist movement.
Lessing became involved with the Labour Party in Southern Rhodesia and in 1955 was banned from visiting both Rhodesia and South Africa because of her criticisms of racial discrimination there. In 2001, she was awarded the Prince of Asturias Prize in Literature, one of Spain's most significant distinctions, for her work in defence of freedom and Third World causes. She also received the David Cohen British Literature Prize, and was a finalist for the Man Booker International Prize in 2005. She was awarded the Nobel Prize for Literature in 2007
Further reading: www.dorislessing.org