Resource Title
Exploring Genocide: Educational Issues and Challenges
Summary
An educational resource and accompanying set of posters developed in conjunction with a public wall mural exploring the topic of genocide in a number of contexts.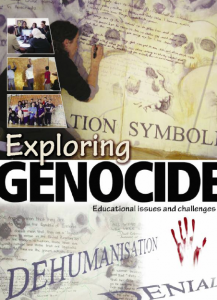 Resource Details
Author:

8020 Educating and Acting for a Better World

Country of Publication:

Ireland

Year:

2007

ISBN:

9780955426339

Page Count:

24
Description
"For those of us living in Ireland, studying the phenomenon of genocide is deeply disturbing for a variety of reasons. While the character and scale of killing in Northern Ireland (and throughout the island) has remained limited, many dimensions of our own history remain deeply challenging. The reality is that many of the worst genocides have occurred in Europe and at the hands of Europeans."
The resource Exploring Genocide outlines a development education project conducted in 2 phases that explores the reality of genocide.  The first phase was conducted in 2004 in East Belfast with students from Orangefield High School and Presentation College, Bray who developed an art mural to commemorate the 10th anniversary of the genocide in Rwanda. The second phase took place in 2007 where students from Bray and Crumlin revisited the mural to explore the topic of genocide in the context of the debate around the killings in Darfur.
Exploring Genocide is a visual record of the process involved in carrying out both school action projects. It highlights the educational dimension of genocide, marks its consequences for those who died and those who survived, and explores the debate of whether events in Darfur amounted to genocide.
The resource includes key learnings from the young people involved in the 2 phases, analyses genocide in relation to Gregory Stanton's 8 Stages of Genocide, gives examples of genocides in recent history, includes links for further information.
Big Ideas in this Resource
explores the nature and causes of genocide as well as its geography and history in recent decades
challenges us to question our position on genocide and considers the question – what can I do to prevent genocide?
challenges the often-asserted view that young people today don't care
aims to understand the nature of genocide and how it happens, how ordinary people get caught up in it (on 'both sides') and what lessons this has for us here on this island (Ireland) and also further afield (in the 'new' Europe)