Resource Title
Human Development Report 2013: The Rise of the South – Human Progress in a Diverse World
Summary
When developed economies stopped growing during the 2008–2009 financial crisis but developing economies kept on growing, the world took notice. The 2013 Human Development Report (HDR) themed on "The Rise of the South" examines the profound shift in global dynamics driven by the fast-rising new powers of the developing world and its long-term implications for human development.
China has already overtaken Japan as the world's second biggest economy while lifting hundreds of millions of its people out of poverty. Between 1990 and 2008, 500 million people were lifted out of poverty in China. India is reshaping its future with new entrepreneurial creativity and social policy innovation. Brazil is lifting its living standards through expanding international relationships and antipoverty programs that are emulated worldwide.
But the "Rise of the South" analysed in the Report is a much larger phenomenon: Turkey, Mexico, Thailand, South Africa, Indonesia and many other developing nations are also becoming leading actors on the world stage.
However, inaction on global environmental problems could risk ending the gains made in the world's poorest countries and communities.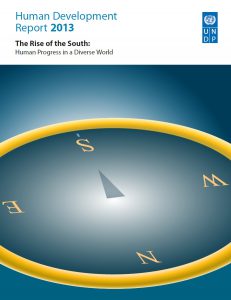 Description
By 2020, according to projections developed for this Report, the combined economic output of three leading developing countries alone—Brazil, China and India—will surpass the aggregate production of Canada, France, Germany, Italy, the United Kingdom and the United States. Much of this expansion is being driven by new trade and technology partnerships within the South itself. The Report calls for new institutions which can facilitate regional integration and South–South cooperation.
In addition, inaction on climate change, deforestation, and air and water pollution could end gains in the world's poorest countries and communities.
"Environmental threats are among the most grave impediments to lifting human development … The longer action is delayed, the higher the cost will be," warns the report, which builds on the 2011 edition looking at sustainable development.
As ever, the report includes the results of its annual Human Development Index (HDI) which ranks countries and regions based on a range of social indicators. The report also includes its three most recent innovative indices accompanying the HDI, based on Inequality, Gender and Poverty.
Key message
A key message contained in this and previous Human Development Reports, however, is that economic growth alone does not automatically translate into human development progress. Pro-poor policies and significant investments education, nutrition and health, and employment skills—can expand access to decent work and provide for sustained progress.
Keeping the momentum going
The 2013 Report identifies four specific areas of focus for sustaining development momentum: enhancing equity, including on the gender dimension; enabling greater voice and participation of citizens, including youth; confronting environmental pressures; and managing demographic change.
The Report also suggests that as global development challenges become more complex and transboundary in nature, coordinated action on the most pressing challenges of our era, whether they be poverty eradication, climate change, or peace and security, is essential. As countries are increasingly interconnected through trade, migration, and information and communications technologies, it is no surprise that policy decisions in one place have substantial impacts elsewhere. The crises of recent years—food, financial, climate— which have blighted the lives of so many point to this, and to the importance of working to reduce people's vulnerability to shocks and disasters.
The annual Human Development Reports have been published since 1990 and document, measure and analyse the progress in human development over recent decades. Earlier HDRs are available free of charge at www.hdr.undp.org, including full texts and summaries in major UN languages, summaries of consultations and network discussions, the Human Development Research Paper Series and HDR news bulletins and other public information materials. Also available are statistical indicators, other data tools, interactive maps, country fact sheets and additional information associated with the HDRs.
For more on understanding the data and measures presented in the Human Development Reports.
Previous Human Development Reports included on this website: