Are you an educator looking to explore global issues but unsure where to begin? Then this list may be just what you need!
While we have a lot of useful and informative content and resources on Development Education/Global Citizenship Education, it can be difficult to know where to start or what it is that you might want to explore with your students or group. Our hope is that the content and resources featured on developmenteducation.ie will enable shared learning and reflection in building an informed community, who are empowered to engage their collective power and take appropriate, positive action on issues affecting them and the world around them.
Doing Development Education: ideas and resources – a starter guide. This guide is designed to be used by anyone in an educational context, formal or non-formal. It explores definitions of development education, methodologies, activities and more.
Resources library: Explore our extensive library of annotated resources, which can be browsed by topic, publisher, format, SDG, country of focus and/or intended audience.
Ár nDomhan Inniu – as Gaeilge! Due to an increasing demand for Irish language resources, we have been developing and curating this section as a reference point for resources, ideas and debates on global development issues, all as Gaeilge.
We have educator guides such as:
For issues-led content, we have our 'What the Fact?' series, our '10 Myths about…' booklets and our 'Issues and Topics' section, and much more.
Resource recommendations (to name but a few!)
More on developmenteducation.ie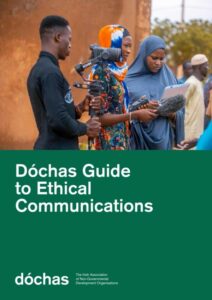 The Dóchas Guide to Ethical Communications is a resource for international humanitarian and development non-governmental organisations (NGOs) when designing and implementing their communications. The Guide