Resource Title
Give Credit to the Poor
Summary
A resource pack written for teachers and students in Transition Year, that provides information on microcredit – how microcredit works, its benefits, key concepts and contributions to the MDGs.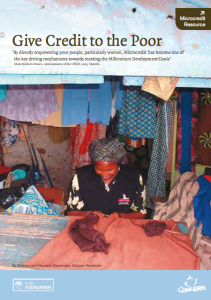 Resource Details
Author:

Michael Doorly and Joan Martin

Country of Publication:

Ireland

Year:

2006

Page Count:

36
Description
'By directly empowering poor people, particularly women, Microcredit has become one of the key driving mechanisms towards meeting the Millennium Development Goals'
The focus of this resource is on the role of microcredit and Credit Unions in supporting the poor to break out of the cycle of poverty.  The resource has an accompanying 20 minute DVD,  which was developed for teachers and students in Transition Year. However, the pack can also be used in other mainstream subject areas such as business studies, geography, religious education and with other TY modules (micro-enterprise).
The pack includes background information on microcredit, case studies, quick facts, student worksheets including word searches and crosswords, glossary and lesson plans.
Big Ideas in this Resource
How microcredit organisations and credit unions work
The benefits from 'giving credit to the poor'
How microcredit is contributing to the Millennium Development Goals
Key concepts like empowerment, equality and motivation
The 'language' of credit – collateral, rates, interest, etc.
The work of Concern and the ILCU Foundation
The Credit Union movement in Ireland
Further reading
Other publications from Concern's Campaign Resource series: